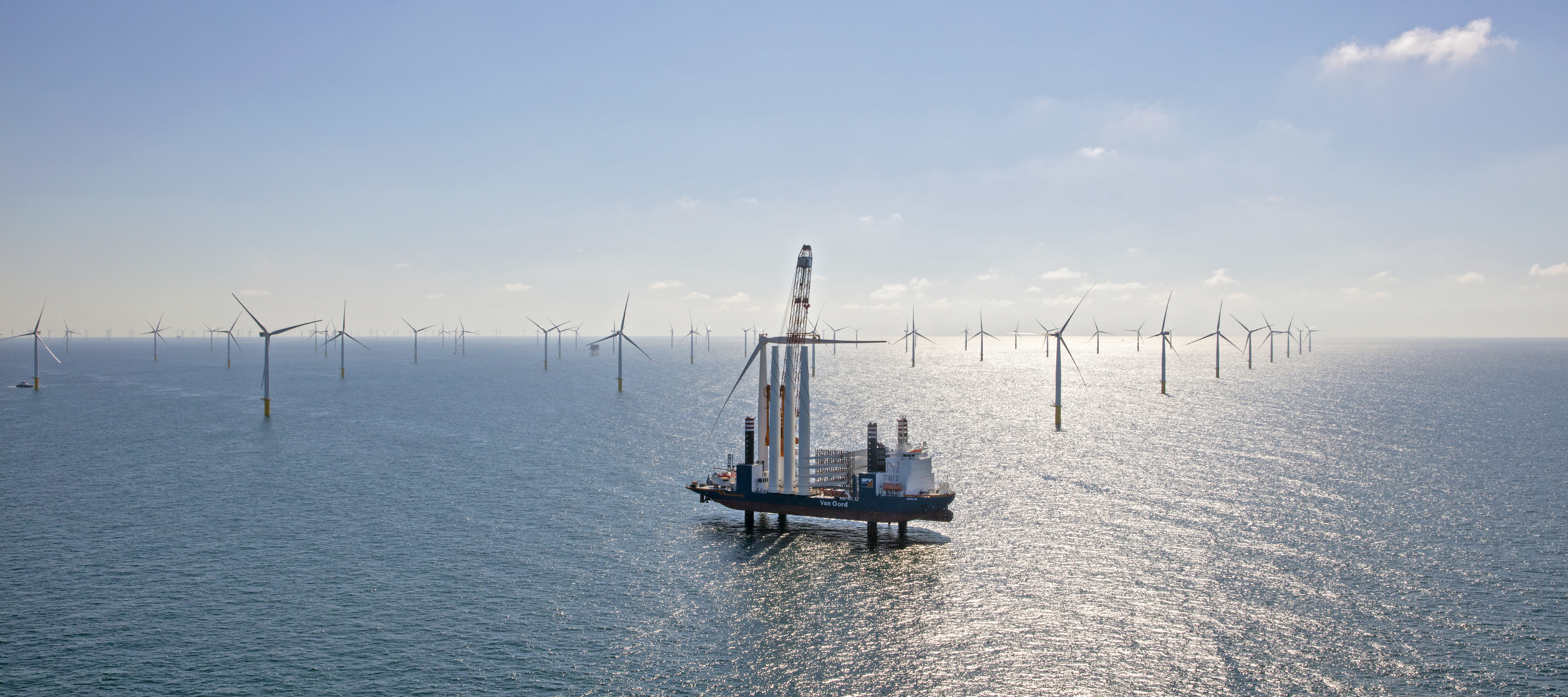 Click here for Dutch Version
Since 2008, the United Kingdom has been the world leader in offshore wind energy. With 11 GW installed capacity (some 30% of the total worldwide offshore wind capacity!) and this is expected to increase to at least 40 GW by 2030, the UK is the right place for companies and organizations involved in offshore wind energy to come together.
Offshore wind energy will be one of the fastest-growing sectors in the UK in the coming years, which, despite the uncertainties associated with Brexit, will be accompanied by increasing opportunities for Dutch suppliers of products and services in the field of offshore wind. The increasing local content requirements in the UK make it necessary for Dutch companies to prepare well for activities in the UK.
To further support Dutch companies in their activities on the British market, the Dutch British Chamber of Commerce (NBCC) is organizing a trade mission to the United Kingdom for Dutch suppliers to the offshore wind sector in collaboration with OCRE Offshore Services BV and Wind & Water Works. The trip follows on from previous successful annual trade missions/exhibition visits to the UK offered by the NBCC from 2011 and will take place from June 20-22 around Global Offshore Wind 2022, the UK's leading offshore event. wind to be held in Manchester this year.
The purpose of the trip is to bring Dutch companies into contact with UK energy companies, project developers and contractors involved in the development and realization of British offshore wind farms through individual and collective matchmaking.
In recent years, talks have been arranged about the offshore wind mission to the UK with parties such as Ørsted, Siemens, SSE Renewables, Equinor, Mainstream Renewables, Vattenfall, RWE, KBR Power, Babcock, Eneco and EDF. The focus will also be on these companies when creating the visiting program.
Format Mission/Match Making
Based on good experiences in recent years, the following format has been chosen for "matchmaking":
Plenary presentations of British companies in which they present themselves to the Dutch mission participants;
"Elevator pitches" from Dutch companies;
Q&A and put individual appointments on the agenda for possible follow-up discussions.
Thanks to the logo mentioned and the option to use the Dutch exhibition pavilion as a base during the exhibition days, your company is also visible at the exhibition.
Location
The trip will take place on and around RenewableUK's leading wind energy conference/trade show Global Offshore Wind 2022, the UK's largest offshore wind event taking place in Manchester on 21-22 June 2022. Global Offshore Wind will attract 170 exhibitors this year and an expected number of approximately 4,000 visitors from over 40 different countries. This year's theme is light on the global next generation offshore wind projects and technology.
Why you should join this trip
You will receive a complete update on the most current developments in the British offshore wind industry;
You gain insight into who the important players in the market are in the coming years and you get to know several of these parties;
You will spend two days intensively with Dutch industry peers, giving you a good opportunity not only to get to know British parties, but also to expand your Dutch network in the sector;
Your company/expertise will be introduced to a large number of UK players in the offshore wind sector in the run-up to the mission;
Your company is visibly present at the fair by means of a logo in the Dutch fair pavilion and you can also use this pavilion as a base for your meetings at the fair;
All contacts made by the NBCC for this trip will be shared with you so that you can follow up on this yourself.
EXTRA OPTION 1: Exhibition participation
The Dutch offshore wind industry representatives Wind & Water Works have a reservation for a Dutch exhibition pavilion at Global Offshore Wind. Here you will find information about the various options for a prominent and visible presence at the fair as a fully-fledged exhibitor. Please contact us to discuss the options for combining your trade fair participation and participation in the trade mission!
EXTRA OPTION 2: SITE VISITS to NW, NE and East England (22-24 June 2022)
In collaboration with our partners from the British Department of International Trade (DIT), a number of additional program components/site visits are organized around the Global Offshore Wind Conference in which the Dutch mission participants can also participate.
In the appendix, you will find the provisional schedule for these site visits.
Date
The trade mission will take place from 20 to 22 June 2022. The exhibition/conference days are 21 and 22 June. The site visits will take place on 22, 23 and 24 June.
Draft Programme (Subject to change)
20 June
Afternoon: flight from Amsterdam to Manchester, check-in at the hotel
Welcome dinner with delegation/guest speaker, overnight stay in Manchester
21 June
Visit Global Offshore Wind 2022
10.00 Opening session
11.00 Market update UK offshore wind market
11.30 B-to-B matchmaking conversations with British market parties
End of the afternoon: RenewableUK network reception
Networking dinner and overnight in Manchester
22 June
Continuation visit Global Offshore Wind 2022
Continuation of B-to-B matchmaking talks with British market parties
End of day: return flight Manchester-Amsterdam, end of mission
21-22 June

Extra Option:

Exhibition participation at the Wind & Water Works booth

For information see: https://iro.nl/calendar/global-offshore-wind-gow/

Other options (site visits, see attachment for intended program):
22 June
OPTION 1: visit NW England / site visits
23 June
OPTION 2: visit NO England / site visits
24 June
OPTION 3: visit Yorkshire & Humberside / site visits
Participation Fee
Participation in the above trade mission is subject to a participation fee of € 2,400 excl. BTW (price for members of the NBCC, IRO, NWEA and HHWE, non-members pay € 2,880 excl. BTW). For any 2nd and subsequent participants of the same company, a participation fee of € 1.650, - excl. BTW.
The prices published by IRO/Wind & Water Works apply to trade fair participation. No costs will be charged for site visits on 22, 23 and 24.
The participation fee includes the following:
Intake and organization of the trade mission program
Hotel nights 20 and 21 June in Manchester (incl. breakfast)
2 days Entrance to Global Offshore Wind 2022 (exhibition visit included, conference
program not included)
Local transport (including transfers to and from Manchester airport)
2 x dinner and 2 x lunch
Listing of your company profile in the participants' booklet that will be sent to all of the British contacts in the offshore wind industry before and during the mission
Logo mention of your company in the Dutch exhibition stand and the possibility of using the stand as a base for your meetings at the fair
Guidance during the mission by employees of the NBCC
Airline tickets to Manchester are not included. See below for more information.
Attention: Subsidy opportunity!
A subsidy of a maximum of around EUR 700 is available for the costs of mission participation via RVO mission vouchers. You can find more information about participation conditions and request a mission voucher here.
Flights
You need to book your own plane ticket for this trip. However, the NBCC will inform participants of the expected itinerary and recommend a flight that will connect you to your chosen program.
To Register
You can register for this trip by returning the completed registration form to the NBCC. After receiving this, we will contact you for the intake process.
Information
If you have any questions, do not hesitate to contact us.
Contact person at the NBCC:
Michiel van Deursen, This email address is being protected from spambots. You need JavaScript enabled to view it.
Phone: +31-(0)6-513 42 536
APPENDIX:

Site visits to NW, NE England and Yorkshire/Humberside
on 22, 23 and 24 June 2022
The program of the site visits on 22, 34 and 24 June (organized in collaboration with DIT) will be completed in the coming weeks. Below you will find an overview of the companies/organizations that will be approached for this.
22 June North West
24 June Yorkshire & Humberside
Marketing the Humber – Industry Group

Humber Freeport (Associated British Ports)

Meeting with major local players and success stories, SMC, Boston Group, MRT, Cwind etc.

In Sheffield Hydrogen: ITM Power, Clean Power Hydrogen (CPH2), Chesterfield Special Cylinders
Event Details
Theme:
NBCC Offshore Wind Trade Mission
Date & Time:
20/06/2022 - 02:00 CET
Location:
Manchester | United Kingdom