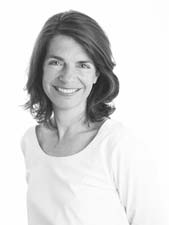 Interview with Alexandra Jankovich
Managing Partner and Co-Founder SparkOptimus
What is your core business and selling point? How can you characterise your firm the best?
SparkOptimus is Europe's leading digital strategy consultant with a 100% focus on digital business building. At SparkOptimus, we have a passion for the possibilities that new technologies offer us to advance the society we live in. We believe strongly in helping organisations understand 'what to do' and 'how to do it', developing clients' potential to continue their journey independently by building capabilities and transferring knowledge.
With 100+ people from 3 locations, SparkOptimus has supported hundreds of organisations worldwide and is a disruptor in its own right, with more than 70% growth year-on-year for the past 5 years. The company was set up in 2010 by a group of former McKinsey consultants and was voted the Number 1 Dutch digital strategy consultancy for the 3rd time in 2019. Our overall market recognition has also lead to our bestselling book 'Make Disruption Work', as well as executive programmes with top business universities such as INSEAD and IMD.
Our expertise include digital strategy, organisational design, technology, and digital operational excellence. We support leading players across all industries, including the likes of Shell, Ikea, ING, Marks & Spencer, Heineken, and Unilever. We are also the only strategy consultant to serve digital Pure Players like Ebay, Bol.com, and Independer with their core commercial operations.
What distinguishes you from your competitors?
Through our experience of building digital businesses for digital native companies, we discovered that the digital world is not about digital, but about serving customers better, faster, and cheaper. In a digital world, all companies will be customer-first, self-learning, high-velocity businesses at scale.
When we work with clients, we always take a business- first approach. We shape companies through initiatives across 3 strategic horizons: Optimisation (optimise current business & reduce costs), Transformation (transform business to better serve digital customers) and Disruption (develop new models to drive disruption). We do this by transferring digital-native DNA across the client's organisation and forming a combined client–SparkOptimus team to get-it-done!
For how long have you been involved in British-Dutch business? What kind of presence do you have on the Dutch-UK market?
Since the inception of SparkOptimus in 2010, we have continued to provide ongoing support to a number of multi-national FMCG clients and London based private equity companies with scaling-up their digital and online ambitions. This entails close collaboration with these clients' UK businesses, as this represents an important online market for many of our clients.
Could you elaborate a bit more what kind of projects you run for these clients?
Our projects have ranged from digital strategy development and implementation to building and onboarding our clients' digital teams on the ground. We are 'in the boardrooms and the trenches', practising a 'what-to-do', 'how-to-do-it' and 'getting-it-done' approach.
What is typical 'SparkOptimus' when you work together with client teams?
At Spark, we pride ourselves on our down-to-earth way of working with clients. We don't just work hard; we also have a great time socialising with our clients: whether that's beer & bitterballen after a workshop in Amsterdam or a Thai Team Dinner with our client teams in their UK locations. And of course, we always pack stroopwafels when we travel!
Why did you become a Gold Member of the NBCC and how does it meet your expectations?
Whatever the future has in store for the UK and the Netherlands, what we know for sure is thatthe way we do business will be differentto how we did business yesterday, how we work together today and how the Dutch-UK market will operate tomorrow. Our recommendations to clients also apply in this context: it's about keeping an adaptive mindset, keeping the customer first (go where the customer goes), and continuously learning about new technologies that can add value for your customer and help you achieve your business goals.
As 'the new kid in town' at NBCC, we are very much looking forward to meeting you at NBCC's wonderful events (co-founder and managing partner, Tom Voskes and I attended the NBCC North Sea Neighbours Dinner last summer for the first time) and exchanging experiences on doing business in the UK. Next year on the 26thof March I'll be one of the keynote speakers at the NBCC event about the role of AI in the food sector. Additionally, the NBCC has an important network of private & public stakeholders that we can benefit from and provides the possibility to share knowledge and best practices.
Given that sharing 'the know-how' and 'how-to' of digital disruption is part of our mission, we are confident we can be a valuable business partner to you!