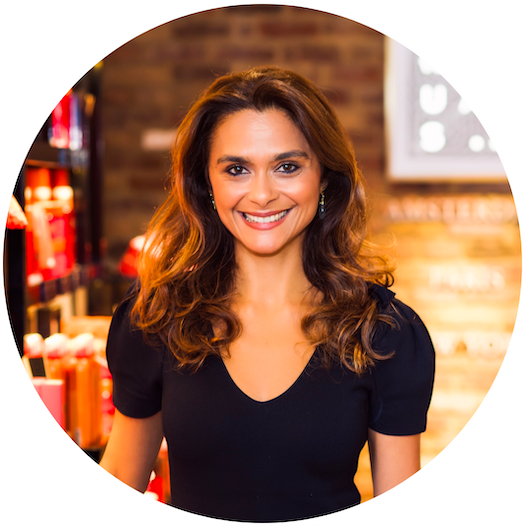 Can you tell me something about yourself?
I moved to the UK over 20 year ago to study, and I have been here ever since.
I started out as a part-time sales assistant whilst doing my Masters, and for the last seven years I've worked on growing the Rituals brand in the UK and Ireland. I love retail, and take a lot of pride in helping brands and people grow.
I am married and have two boys aged 8 and 13. They give me my daily dose of learning, every day. And I in return tell them to do one thing a day that takes them out of their comfort zone. In my free time I love to ice-skate (was part of the national figure skating team of Greece growing-up) and play the piano which I started in my 40's.
My favourite quote is: "Only when we are brave enough to explore the darkness will we discover the infinite power of our light."
How large is Rituals? How big is the UK as a market for Rituals?
Rituals is a growing brand. We are present in 27 countries, have of over 1000 stand-alone stores in Europe, over 3,500 SIS in department stores and perfumeries, a travel retail business and a strong digital business.
The UK is a strategic market with one of the highest growth at the moment. Last year we finished on +56% vs. 2020. Stores continue to play a vital role for us as we build our brand. Our strategy was always "city first" in the first few years and I am really pleased to say that we currently have a 50% awareness in London, predominately thanks to the opening of more stores in the capital and the big campaigns our teams worked on to give us stand-out. We have been targeting the bigger cities and towns outside London and will continue with this strategy to help us penetrate the market and increase our brand awareness.
Our brand is sensory-driven. Physical stores enable our customers to touch, feel and experience all our different products. It helps to connect and build a relationship with our customers. We are an experiential brand and we are not here to sell beauty products, but to make people feel good. People can only truly experience the brand when they come into our beautiful stores. I am also incredibly proud of the exceptional service we offer in stores that cannot be replicated online.
Innovation and private events for our CRM customers will continue to be important.
We had a digital roadmap pre-covid which would help us get to the next 5 years and it's amazing to see how we have been able to accelerate so quickly and get there sooner. Now we are looking at the next 5 years and product, our operations & logistics, CRM, Omni (C&C and SFS, personal shopping) and social media play a big part in this.
Rituals was founded with the mission to transform everyday routines into more meaningful moments. How do you create more meaningful moments in the UK?
Rituals reminds us to slow down, be more mindful, reflect and create routines that make us feel good. For me personally, even after seven years, every time I use the shower foam which is our hero product, I feel I have had the most luxurious shower. For me it's also important to create meaningful moments with my people, celebrating successes and special milestones.
How do you see the role of creating meaningful moments with Rituals in times of COVID?
Connecting with our people is very important, and obviously even more important during lockdown when everyone was going through tough times. We created virtual well-being sessions during the week for all our staff, such as yoga, hiit classes to cooking or drawing classes. We also took the opportunity to offer our staff L&D online courses for anyone wanting to take part and further develop in any area they wanted.
I had a virtual drop-in coffee session every week where anyone could attend from the organisation to ask and answer questions, concerns and take time to brainstorm together. Although a many of our staff were on furlough, the engagement was phenomenal. This meant that when we re-opened our stores everyone was energised, connected and ready to hit the ground running.
What has stayed with you from the NL? What do you think is the best thing about the NL?
I really miss my monthly trips to the Netherlands. I miss the canals, the quaint independent shops, the cycling and the friendliness and directness of the people.
How have you come to be involved with the NBCC?
I met Lyne Biewinga a few years ago when I was looking for support in helping us find companies who would gift their employees with Rituals. I was inspired by Lyne's passion, integrity, work ethic and her values which were very much aligned with my own.
What do you think the strengths of the NBCC are? What makes NBCC's mission meaningful to you?
The NBCC is a great organisation which has the capacity to share useful information, help represent brands, make connections and introductions, and help both UK and NL brands grow and flourish by providing excellent services. I also really appreciate all the great work NBCC are doing on raising awareness and driving the D&I and Sustainability agenda.
How do you see the role of the NBCC going forward? Where are its opportunities for growth? Where do you look forward working on with the NBCC?
The role of NBCC has become even more important due to Brexit, because companies need more support and guidance in dealing with different challenges. I look forward in supporting members to overcome some of these hurdles.
I also hope that I can help the NBCC to stay contemporary, for example via digitalisation, CRM and innovation. Times change and it is important that the NBCC continues to meet the changing member needs. I would also like to help with strengthening the business culture in the NBCC so that individuals can thrive. I believe that people are the engine of an organisation. I want us to create more meaningful moments with the NBCC team, celebrating success and special milestones.
Why would you recommend that all companies involved in NL-UK trade become NBCC members?
Membership offers a unique opportunity to grow your business's reach and awareness. You become part of a huge community, with shared goals and interests. You get access to a vast network of businesses, shared information, industry experts, introductions and leads. All to help you grow your business!